Tell us how much you want to spend and what you want your video to accomplish. We will make it happen.
      We get it.  You want to shop for video production companies like you would a TV.  Here are all the prices, features, and colors and you select the one you want that is in your price range.  Unfortunately that doesn't work because every video is custom made for each client.  We won't know how much your video will cost until we know:
      The way to shop for a video production company is check out their portfolio and see if you like their work.  Read reviews and customer testimonials.  If you like what we do, call text or email with details on what you want your video to be and a budget range of what you would like to spend.   Here are some examples of details to give us.
Where are you on the production triangle?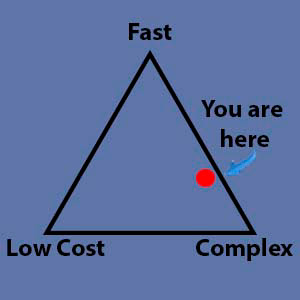 "I don't know what I want to spend or what kind of video I need."
     We actually get this a lot.  That is why we offer a free consultation.  Call or set up a face to face meeting with Jeremiah.  He will ask you the right questions and lay out your options.  No pressure to hire us.  We are here to help you start making videos.  If you don't choose us this time, maybe next time you will. 
"Just give me some numbers!"
You are checking a bunch of video production company's websites and no one will give you any numbers.  You need some context before you start filling out all these contact cards.  No problem.  Here are some ballpark entry level prices for some of our most popular projects.   The price range is for complexity.
30 – 60 second commercial $600 - $2,000
5-minute promotional video $1,000 - $2,500
30 – 60 second computer animated commercial $2,000 - $8,000
30-minute fully produced educational video $4,000 - $10,000
10-minute non-profit fund raiser video $1,500 - $4,000
20 video series of 4-minute training videos $1,000 per video
We have filmed videos for $500 and $30,000 so it is a pretty wide range.  Our entire business model is built on returning customers and referrals. It is in our best interest to create a high-quality video that meets your goals for a budget you are happy to spend.  You will find cheaper production companies out there and more expensive ones.  We will work to give you the best video within your budget, so you will return a happy customer.